Bike locks are a necessity and a great promotion

As bike commuting grows in popularity, so does the incidence of bike theft with an estimated 1.5 million bikes stolen every year. Many bike thefts occur simply because bikes are not locked.
Bike locks make a great promotion for any organization wanting to highlight:
Health: Just three hours of biking per week can reduce your risk of heart disease by 50%
The Environment: In 2003, cars stalled in traffic wasted 5 billion gallons of fuel.
Youth: In 1964 50% of kids rode to school and the obesity rate was 12%. In '04, 3% rode and the obesity rate was 45%
A variety of organizations are a great fit for using branded bike accessories and locks in promotions. Foundations that focus on youth, education, police departments, insurance companies and law firms are a few examples. In addition, there are a many bike related events throughout the country bringing together thousands of biking enthusiasts every year.
A few examples of Annual Rides:
Ragbrai
Brag Nat'l Cherry Blossom Festival
LA River Ride
The 605 custom cable lock offers good cut resistance and is self-coiling for easy storage and makes for a great biking themed promotion that anyone can use. The coated twisted steel cable protects a bike's finish and the brass core won't rust.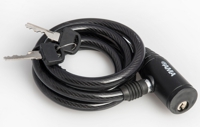 Features:
Brass Core and keys
10 x 1200 MM steel Cable
1-1/4" x 3/4" logo area
2 keys
Supporting your clients in developing bike related promotions can not only support community relations initiatives but reinforce employee wellness and safety.